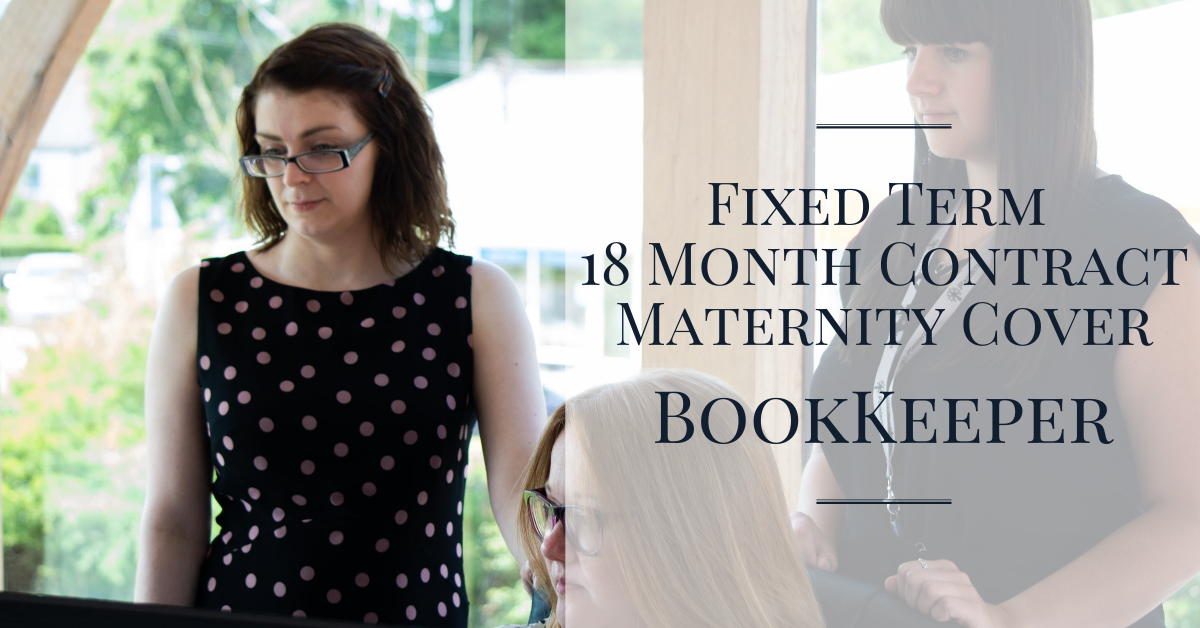 Job Role: Fixed term, 18 month contract, Maternity Cover, Full-Time Bookkeeper
Salary:  £21,000 – £23,000
Area: ST12 9DQ
Hours: Standard hours are 8.30am to 5.00pm, 40hours per week.
28 days' holiday per annum, plus one additional day per year of service – up to 33 days (on a permanent contract)
About us:
With a number of rapidly expanding companies running from the same office, this role is a wonderful opportunity for someone looking to develop their skills further – having a good attitude and aptitude to learning new things is everything to us. The parent company, the Planterra Business Centre, looks after the companies under its roof and helps to promote them. The other companies are predominantly based within the landscape development industry, providing services such as landscaping and garden maintenance, removal of invasive weeds, technical landscape development documentation, garden machinery repair and the provision of virtual assistant services. All of the companies focus on making a positive difference to the lives of our clients and colleagues and consider excellence to be our minimum standard. This is reflected in everything that we do.
There are currently twenty-four people employed within the group which is based in Barlaston, Stoke-on-Trent.
About the role:
We are looking for an AAT qualified, experienced bookkeeper. In your role you will be working closely with the Directors to co-ordinate purchasing and incoming payments across the companies.
Essential Duties will include:
Payroll, experience with Xero would be advantageous;
VAT Returns – preparation and submission;
CT61 Returns – training will be given if required;
Deferred Income – training will be given if required;
Accruals & Prepayments – training will be given if required;
Month End Management Accounts – the company process will be demonstrated;
Fixed Assets & Depreciation;
Journals;
Production of management reports, profit and loss accounts.
Day to day Duties will include:
Payment of purchase invoices;
Processing purchase invoices, agreeing costs to quoted prices, recording purchases to jobs;
Recording of all sales receipts;
Bank Reconciliations for multiple bank accounts;
Paying in monies to the bank;
Retrieve delayed payments by clients;
Payment Runs;
Cash Allocation;
Production of management reports, profit and loss accounts;
Compile finance reports for funders and grant applications;
Other Responsibilities:
Working closely with the Directors to assist them in making informed decisions;
Acting with complete transparency, integrity, honesty and loyalty;
Representing the group in meetings with funders, partners and both key and potential key clients;
Keeping informed about key targets that are set by the Directors, assisting in the achievement of these targets;
Production of KPIs on a weekly basis;
Accounts completed ready for pass over to our external accountants.
Desirable – Alerting the Directors of any immediate issues but also potential problems that may affect the companies due to your in-depth analysis of the forecast figures;
About you:
Minimum 9 GCSE'S A* – C Grade (including English, Maths and ICT);
AAT qualified, ideally to level 4;
Familiar with Xero and Sage Pay;
Competent using Microsoft Excel;
Comfortable with intercompany transactions;
Enhanced DBS checked;
You will be well presented and respectful;
Self-Motivated;
Efficient and well organised;
Time management skills;
Work to a high standard, showing attention to detail, showing care and thought in all that you do;
Good communication skills with other members of the team, clients and suppliers;
Looking to improve processes that are in place with regards to efficiency aspects of the company;
You will want to promote the companies using social media and in your general day to day affairs.
Although this is a standalone role (with the exception of the handover/training period prior to maternity leave commencing) you will be working amongst other staff in the office, it is important that you can work well as part of a team and are willing to help and support other members.
Training:
Ideally there will be a cross over for the right candidate before maternity leave commences and on completion, hence the 18-month fixed term contract. We work with an external Accountants firm who will be able to offer some further support if required.
Please email your CV to hr@blueirislandscapes.co.uk