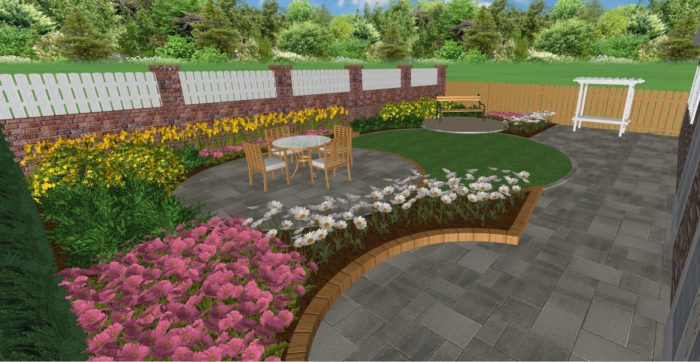 We have been established as a landscape gardener in Wilmslow for 20 years. Therefore, we have a vast amount of knowledge and experience in the landscaping field, carrying out both soft and hard landscaping.
We have many clients that come to us with a blank canvas; all they know is that they want their garden landscaped. However, some clients come to us with specific ideas and designs already in mind that they want to share with us. Whatever the case is though Blue Iris Landscapes can assist.
With the above in mind, we create 3D CAD drawings for all landscaping customers. The 3D CAD drawing gives a visual representation of how your garden would look, following landscaping. This CAD drawing is also accompanied by a detailed estimate. We find it helps to bring the landscaping ideas alive! A CAD meeting is usually held to further discuss your requirements and at this point, we can make any necessary amendments to fully meet your specifications.
You may feel that landscaping your garden is going to be expensive. However, we offer 0% finance for all landscaping customers. Making the investment into your garden easier to handle financially.
Landscape Gardener in Wilmslow
As a landscape gardener in Wilmslow, we have completed numerous landscaping jobs. It is great being able to see the transformation of a garden take place. It is even better seeing our customers reactions when the work is completed. To see what our customers say about us visit our testimonials page.
Many of our clients who have their gardens landscaped by ourselves, also go on to have garden maintenance. This could be regular garden maintenance or one-off garden maintenance, which ensures that their gardens are kept looking great following their landscaping.
Do you require a landscape gardener in Wilmslow? Then, Blue Iris Landscapes is the company for you contact us today to arrange your site visit.