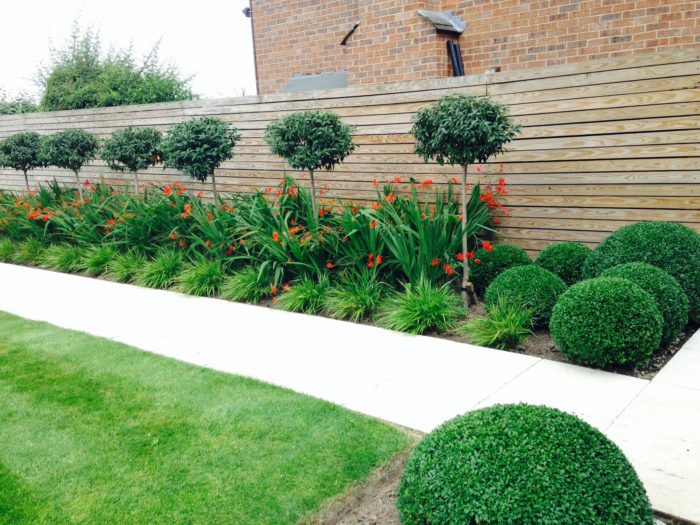 We have had the pleasure to carry landscaping in Stone for many years now. Over the years we have completed various jobs from laying patios, decking, turfing to complete re-designs of a garden.
Landscaping in Stone
Whatever the case, Blue Iris Landscapes is here to help! Over the last couple of months, we have carried out a couple of landscaping jobs in Stone which both involved turfing. Re-turfing your garden can be for various reasons, maybe it is damaged, overtaken by weeds or you are extending your lawn or redesigning your garden. We are also finding now that artificial turf is becoming more and more common. Whatever the case is we can assist.
As you can see from the images here for this job we landscaped the rear garden. We removed the existing lawn and patio area. A new patio, path and stone circle were all created from Indian stone paving, this is a lovely natural stone paving. New borders were created and planted up. Following this new turf was laid to finish the garden off. This gave the client a couple of lovely patio areas for them to sit and relax on.
Another job which we completed was a small and simple job was landscaping in Stone, this involved a small lawn being removed and turfed again. As you can see from the image this lovely quaint garden gives a lovely cottage feel with the lovely borders and new lush green grass.
To see further examples of landscaping jobs we have completed, please see our gallery. We have completed numerous landscaping jobs from cottage-style gardens to modern sleek gardens.
To book your site visit contact us today, our team will be happy to assist you throughout the process to create your dream garden!
To begin your landscaping in Stone, why not also complete our online contact form and our office team will be in contact.