Ponds
Ponds are a great feature that can add a real wow factor and encourage wildlife.
Ponds are normally built in three ways – pre-formed pools, liners or block/brickwork. The construction method will depend on the site, if you want to have fish and the style you would like.
Pre-formed Ponds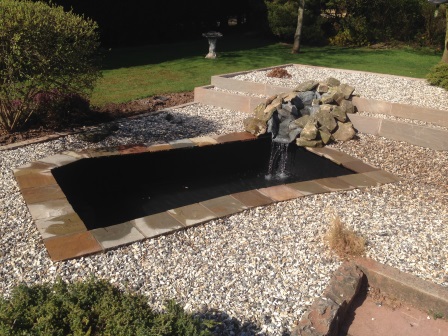 These are quite easy to install and therefore prove quite popular. The pre-moulded pond is inserted into the hole we dig; it is a good idea to put building sand down to make sure the mould is not cracked under the weight of the water pushing it against a hidden pointy stone. The other important aspect to consider is to make sure it is exactly level or else all the water will flow to one end.
Liners
Pools formed with liners are very good if you're doing a wildlife pond. As you can get multi levels constructed and a slope for animals to access and exit the pond. Putting the building sand below the liner is absolutely vital, even if you have a 15 or 20 year guaranteed liner.
Concrete and block work
Koi Carp ponds look amazing! These have to be a lot deeper and are normally constructed using concrete and block work. The block work can then be painted with a waterproofing paint (the black looks really good, especially with light or gold coloured Carp) or the liner can be put over the top of this. It is very important with Koi Carp ponds to get good aeration and filtration of water.
The pond above surrounded by the decking is actually half as big again but this is hidden by the decking, which protects the fish from the Heron and keeps it cool in this sunny position. The filtration on this pool was a gravity fed one with UV and particulate filters in. This created a lovely feature for the garden.
This pond was constructed out of concrete block and concrete. As you can see it has a nice coping stone around the top. Along with different heights of shelves internally for the different water plants that are to be inserted.
Pond Maintenance
We also carry out pond maintenance. Ponds are an excellent feature in a garden, however, they do need maintenance and cleaning to remove debris and silt, to ensure they continue working efficiently and look fantastic all year round.
Our pond cleaning service is available all year round, however, if you have fish or other creatures the ideal time is late autumn as they become less active. If you do have fish or other creatures in your pond, we will ensure they are safely removed and held in a holding tank. We have fallen leaves, especially during the autumn, that can clog up filters, a build-up of silt, debris and dead/dying plants, all of which affect the cleanliness of a pond.
We also have a pond vacuum, which makes cleaning your pond easier, helping to remove the water and dirt quickly and efficiently. While clearing out your pond, we can also check and/or change the pond filter to ensure that it continues to cleanse the water of debris and harmful toxins.
Whatever the case may be Blue Iris Landscapes can assist in cleaning your pond.
Ponds are a great feature that can add a real wow factor and encourage wildlife. If you would like some advice or a price please contact us.