Walls
We have a vast amount of experience in designing and building both retaining and boundary walls.
Walls are usually built for one of two purposes, retaining walls or boundary walls. We have a vast amount of experience in designing and building both types of walls. By choosing different materials e.g. brick, stone or sleepers, you can get a totally different look. The important thing about walls is that they have to be fit for purpose as well as aesthetically pleasing.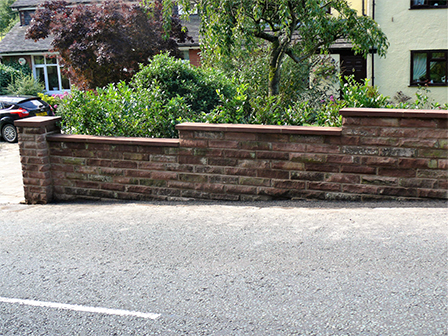 Most brick walls are of 9-inch construction (outer and inner skin). If the inner skin is not seen we often do this in 100mm solid concrete blocks. The foundation as a standard is normally 450mm wide by 225mm deep. This is easily adequate for the majority of brick and stone walls that we construct. This ensures that there is no subsidence and therefore no cracks will appear throughout your wall.
Retaining Walls
We can build retaining walls to a structural engineers specification or we can bring in our own architect or/and structural engineer. This ensures that the wall we build not only looks great but will do the job for decades to come.
Our retaining sleeper walls are constructed by: –
The bottom row of the sleepers would be bedded on concrete to make sure that these are solid, stable and level. The sleepers are laid in a brick pattern to give the wall extra strength. Each row is attached to the lower row using screws and/or bolts, these are inserted at the rear of the wall so that they are hidden from sight.
We put in posts behind the sleeper wall that are concreted into the ground. The sleepers are attached to these posts from the back of the wall to make sure that the sleeper wall does not fall forwards. This makes a very strong and durable wall.
By having a wall built this not only adds interest and is aesthetically pleasing, but can also make a more practical garden by the use of terracing areas to make it more usable.
If you require a wall constructing in your garden, contact us today!