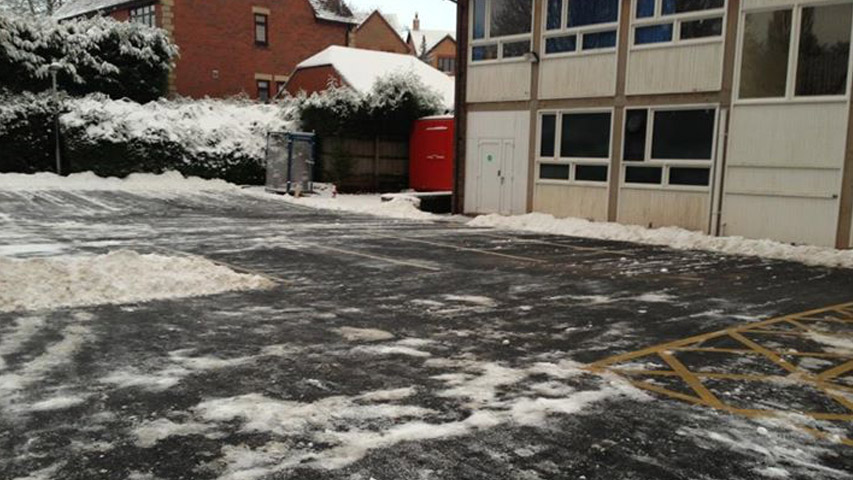 Snow and Ice – Health and Safety
On the Health and Safety Website it says:
Ice, Frost and Snow
"To reduce the risk of slips on ice, frost or snow, you need to assess the risk and put in a system to manage it." This is often in the form of a grounds maintenance company such as ourselves dealing with the snow clearing and gritting.

"Monitor the temperature, as prevention is key."

"Identify the outdoor areas used by pedestrians most likely to be affected by ice, for example: – building entrances, car parks, pedestrian walkways, shortcuts, sloped areas and areas constantly in the shade or wet."

You need to take action whenever freezing temperatures are forecast. Keep up to date by visiting a weather service site:

Met office website – BBC weather website

"Put a procedure in place to prevent an icy surface forming.

Use grit (see separate article below for more detail) or similar, on areas prone to be slippery in frosty, icy conditions." – One method we usually employ to de-ice paths drives and car-parks is to use grit/rock salt. This is relatively cheap, as it is easy to spread. Rock salt is the most commonly used salt and is used by most councils and the highway agency. As a general guide we at Blue Iris Landscapes Ltd, put down on car parks a rate of approximately 10-15gms/m2 for precautionary salting and 20-40gms/m2 during ice and snow conditions is recommended.

The HSE website says; "Gritting should be carried out when frost, ice or snow is forecast or when walkways are likely to be damp or wet and the floor temperatures are at, or below freezing. The best times are early in evening before the frost settles and/or early in the morning before employees arrive. Salt doesn't work instantly; it needs sufficient time to dissolve into the moisture on the floor." –

Salt will stop ice forming and cause existing ice or snow to melt depending on the temperature. It is at its most effective when it is mixed into the snow and ice either with foot traffic or vehicular traffic.
As you can see as a responsible Shop owner, Factory manager, House holder or someone else with members of the public or a work force coming on your paths, drives and car parks you need make sure they are clear. Please contact us for salt, gritting and snow clearance immediately. This will mean you have taken all precautionary actions you can and therefore cannot be accounted liable if someone falls or trips over on any snow or ice!
If you would like to know more about our Snowing clearing and gritting services then please contact Blue Iris Landscapes on one of the following: – Head Office: 01782 396168 Email: info@blueirislandscapes.co.uk Free Phone: 0800 0937926