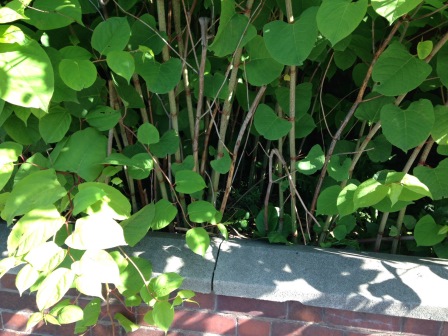 Over the last couple of weeks, we have been working hard in the office to get the new Japanese Knotweed Expert website up and running. It's important to keep a lookout for this pesky plant because if you let it grow it will cause serious problems and could mean that you will not be able to develop, sell or re-mortgage your property.
Like most plants, Japanese Knotweed will spread and thrive. And this would be great if it was a decorative shrub or pretty little perennial. However, Japanese Knotweed is really difficult to control and in severe cases can come up through your tarmac, concrete, damaged drains, and buildings; breaking their concrete foundations.
We would advise you not to try and sort out the problem on your own, it's important to have it seen to by a professional as Japanese Knotweed thrives off disturbance and even the tiniest piece being moved can cause it to grow and spread.
Japanese Knotweed Expert can help – they can provide you with the documents and course of treatments which will mean that you can sell your property after all! With a consultation, you would be provided with a site survey, management plan and quotation for the remedial treatments. Once the treatments have been completed, they will then provide a 10-year insurance backed guarantee and if the Knotweed comes back over that time, they will come out and continue the treatments for free!
Please take a look at our new website: www.japaneseknotweedexpert.co.uk for more information on Japanese Knotweed and the different services that we can provide for our customers.