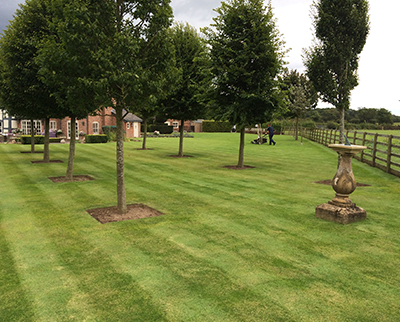 Landscaping in Endon
Are you looking to have landscaping done in Endon? Then Blue Iris Landscapes is the company for you. We offer a professional and bespoke service to all our clients, helping to create your dream garden.
Our landscaping services cover hard and soft landscaping, which ensures we create a garden that suits your style and needs. We have carried out many landscaping jobs over the years, creating various styles from cottage style to ultra-modern. Whatever your specifications are, we are here to assist! 
Starting with your initial contact, our friendly team will be able to arrange a site visit with you. This site visit will enable us to visit your property and meet yourselves. After this meeting, we will be able to measure up your garden and learn about the requirements that you have for it.
We will then complete a detailed quotation and 3D CAD drawing to give a visual representation of your garden. This will outline the cost involved in the project, along with how the project will be completed.
Are you worried about the cost of landscaping in Endon? You don't need to worry as here at Blue Iris we offer 0% finance on landscaping quotations. To learn more about this service, please click here.
If you want a premium landscaping service in Endon, contact us today. Our landscape gardeners are not only qualified and professional, but they are also polite and pride themselves on their fantastic customer service. We keep our brand promises at the forefront of our work:
Professional Horticulturists with Expert Knowledge

Fantastic Customer Service

Bespoke Garden Solutions
Which enables us to provide the best possible landscaping service.
If you are looking for a professional landscape gardener, then Blue Iris Landscapes is the company for you! Contact us today to start your landscaping in Endon!