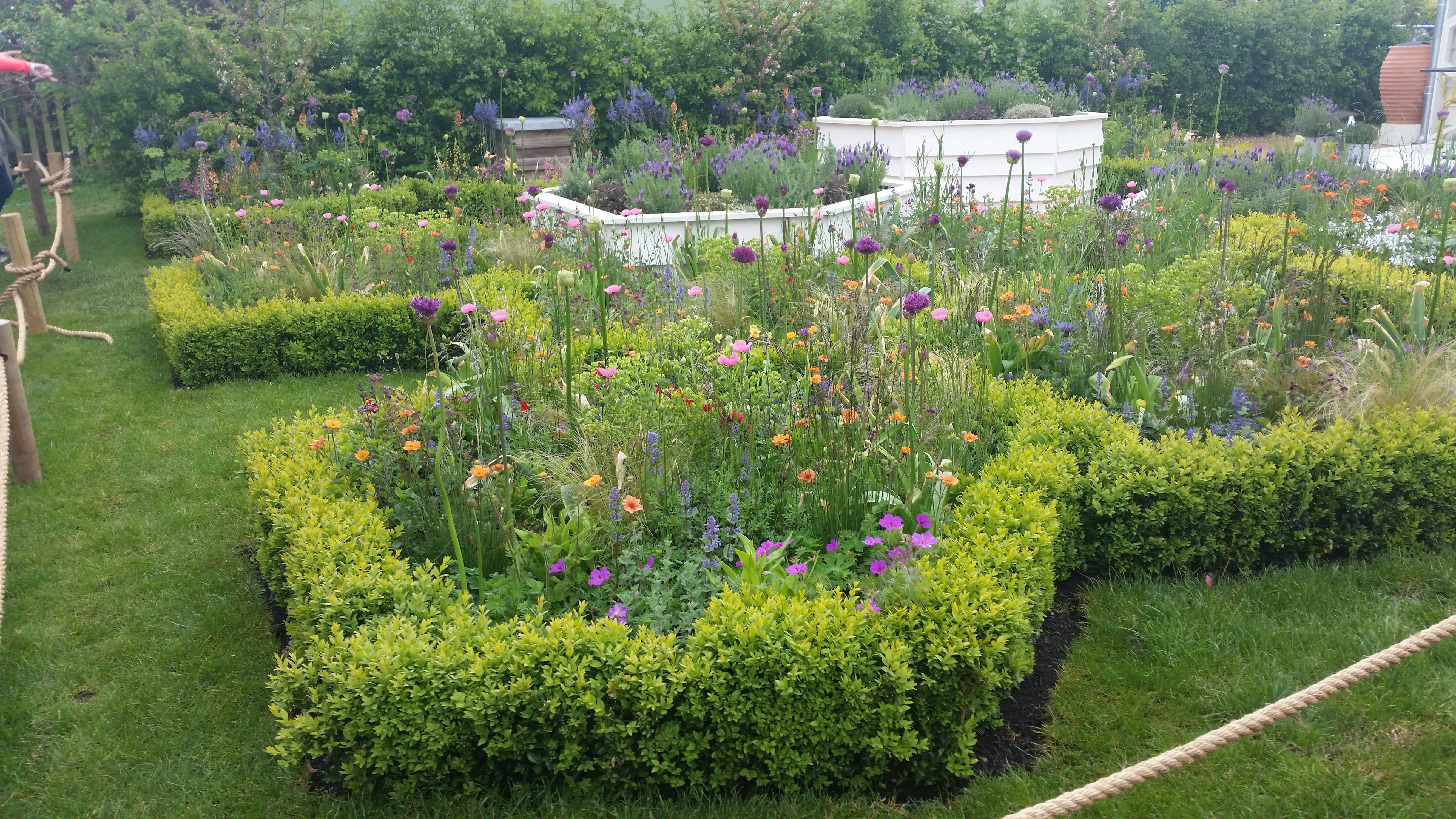 Last Friday the Blue Iris Team visited the RHS Malvern Spring Festival – Three Countries Showground flower show to get some ideas for our client's gardens. There was a variety of different stands and show gardens which gave us lots of inspiration for customers who may not have a particular landscaping design to stick to.
There were a number of themed gardens such "As Mad as a Hatter" which included a teapot waterfall, miniature door, red and white roses and you guessed it – lots of hat figures!

In addition, "The Bees Knees" was another fabulous garden which believe it or not was bee themed. This garden featured hexagonal bee hive shaped hedges and planters and lots of brilliant scented flowers like lavender to attract the bees.
The silver award for Best Show Garden was presented to "The Cotswold Way" which was inspired by the Cotswolds and included a brilliant waterfall leading across the roof of a sheltered seating area. Also incorporated into the design were undulated stone walls and a natural planting scheme which all helped to portray the metaphor of changing economic trends.
There were also stalls selling a variety of different plants – we saw both common plants and even a few new, unusual ones. A particular store had a fantastic topiary display with lots of different shapes and sizes. This stood out to us as this quality is the standard that our customers require in their own gardens.
If you fancy having your garden landscaped, the possibilities are endless and it is best to look into all of your options before you have the work carried out. There are lots of other RHS flower shows taking place over the next few months which are fantastic for getting ideas, we would definitely recommend visiting one over the spring/summer period.
For more information about the Malvern Spring Festival or other upcoming events, please take a look at the RHS website.