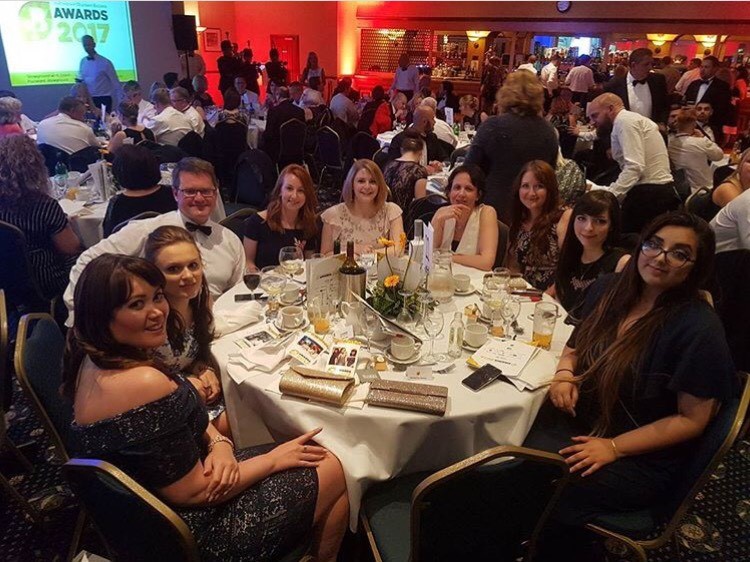 On Thursday 6th July 2017 at the Staffordshire County Showground, the annual Staffordshire Chambers Business Awards evening took place – and we were invited! The awards ceremony showcases local hard-working businesses and professionals that thrive in their fields.
We previously announced that we were proud to have been shortlisted for the Small Business of the Year award. From the 18 commendable businesses that were put forward, we were one of the top four finalists!  The award recognises excellence within a business with fewer than 50 employees; so our customer service, work ethic and quality all shone through in order for us to get so far through the judging process.
As the event was black-tie, we got to wear beautiful dresses (or a tuxedo in our director's case!) instead of our usual smart work attire, and we really did feel glamorous as we walked into the venue to the sounds of the West Midlands Cadet Band and Drummers. We were then handed a gin produced by a local distillery before being seated at our gorgeous table.
Local radio hosts, Foxy and Jenny, were the award speakers and put all the nominees at ease with their welcome and introduction. Then, the reason we were all there, the awards began!
With 14 awards in total, we had to wait until after dessert (a gorgeous, locally sourced strawberry posset, if you were wondering!) before we got to our award category.
The award sponsor, sben, had some kind words to say about each finalist but unfortunately, there could only be one winner and we just missed out this year. We feel really proud, however, to make it to the final four finalists out of every small business in Staffordshire. It is warming to know that all our hard work is not just appreciated and noted by our customers, but also by our peers and the chambers.
We always aim to be the best in our field and as no other garden and landscaping company was commended this year, we know we have achieved our objectives. We would like to thank the Staffordshire Chambers of Commerce for putting on such a fantastic event – and to our customers, both existing and new, for their continued support.
We look forward to seeing what the rest of 2017 and the future has to bring to Blue Iris Landscapes.