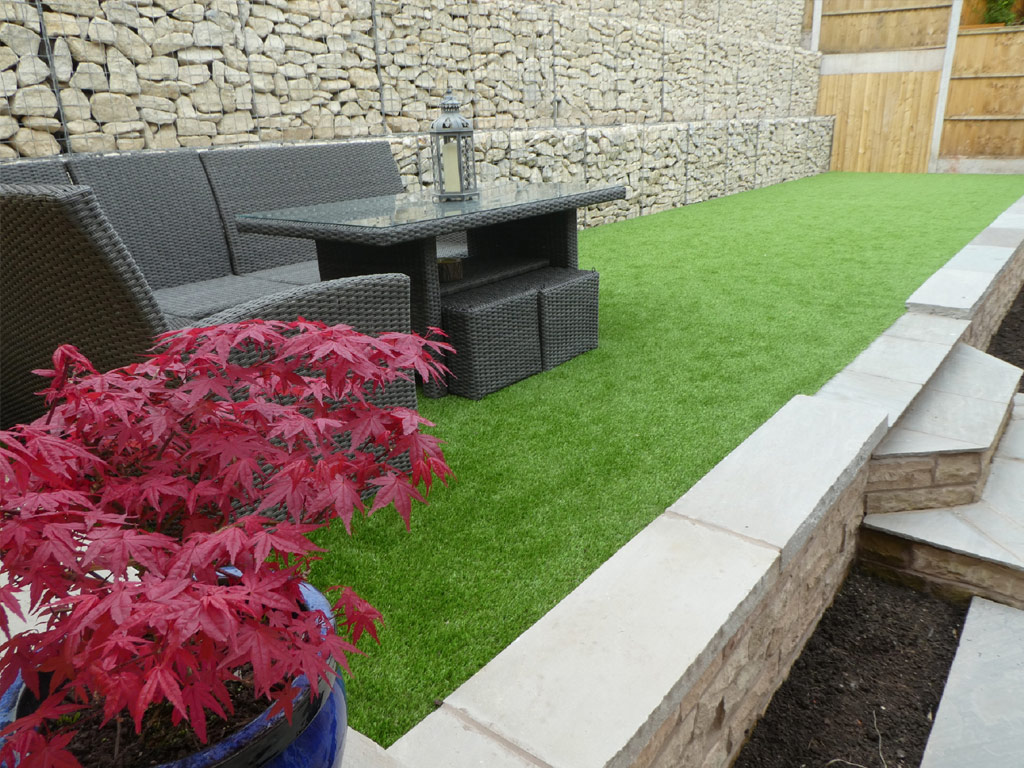 As a company, Blue Iris Landscapes have been landscaping in Loggerheads for many years. As a result, we have carried out numerous jobs in the area to create our clients dream gardens. Many clients wish to have an easily accessible garden which is both practical and aesthetically pleasing. For this client, these two criteria's were essential in creating a garden they could enjoy for years to come.
Landscaping in Loggerheads
This particular landscaping in Loggerheads had very specific guidelines and regulations surrounding the landscaping. This was because their garden backed onto a neighbouring garden which sat several metres above their own. Therefore, the fall of the land needed retaining to ensure the safety of both gardens and properties.

At the rear of the garden, to retain the soil, a new gabion basket retaining wall was created with a lift of approximately 3 metres. A gabion wall is a strong retaining wall built to engineer specification. To ensure that the garden was still use-able the wall was built as far back as possible to make the most of the available space.
To ensure the gabion wall met the specification but also looked pleasing to the eye, the gabion baskets were backfilled with a sub material to give the weight needed to retain the earth. However, the faces of the baskets were built up using stone.
A further retaining wall was built several metres down the garden, this was built from brick and block and stepped the garden down nicely, ensuring that it was made accessible to our clients. The retaining wall stepped down to create a small raised border across the garden, which our clients can plant up to give them interest throughout the year. Inserted into the wall were steps to ensure access to the lower and upper sections of the garden.

The ground between the gabion wall and the small retaining wall was levelled off and prepared. Artificial turf was then laid in the area, to give a lovely green year-round area. Having this also means little maintenance for our clients.
Following the completion of the works, our clients added a lovely table and chairs to the upper section of their garden. This gives an ideal area for them to relax with their friends and family.
Do you require landscaping in Loggerheads? Then look no further, we are the company for you! We carry out many landscaping jobs every year from more technical constructions like the gabion wall to turfing. Whatever your requirements are, we can help. Why not look at our gallery to see further examples of our work?