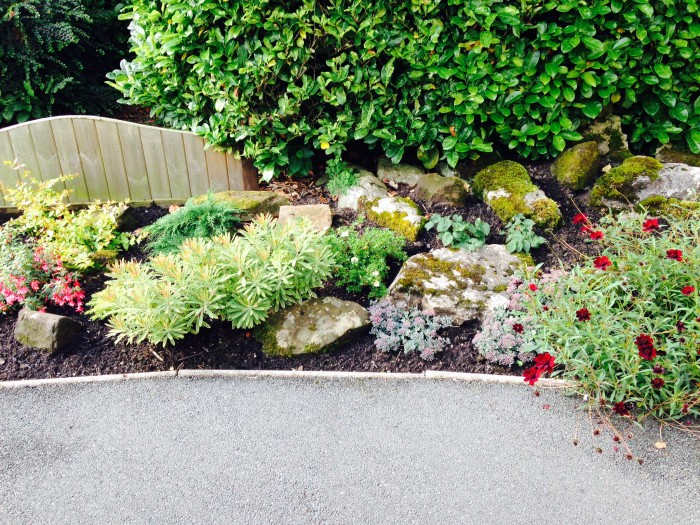 RECOMMENDED PLANTS BY BLUE IRIS LANDSCAPES
As well as giving planti6ng advice and maintenance advice, Blue Iris also use their professional status and services to recommend plants from The Royal Horticultural Society and much more.
The RHS TRILLIUM COLLECTION
The trillium collection is perfect for woodland gardens or shaded borders, these rhizomatous perennials will flourish in deep, moist nevertheless well-drained, slightly acidic to neutral soils.
| | | |
| --- | --- | --- |
| Trillium luteum | Trillium erectum | Trillium grandiflorum |
| Spring flowering plants, mid-green leaves that have an attractive pattern with a paler shade of green. Long-lasting, lemon-scented flowers, with green sepals and narrow yellow petal, Grows to 40cm and give off a flame-like silhouette. | Commonly dark reddish-purple, however occasionally can be found pink, white or yellow petals. This vigorous and easy to grow; early flowering species shows a good resistance to frost damage. Grows to 60cm. | Large, cup-shaped flowers with green sepals and slightly wavy. They have white petals which become curved as their tips often take on pink tones as they age. They appear in late spring and early summer. This trillium is ideal for illuminating a shady corner. Grows to 40cm. |
THE RHS RASPBERRY COLLECTION
These are easily grown and very rewarding. They will be ready to pick from midsummer to early autumn and can be eaten immediately, or frozen for a later date.
| | | |
| --- | --- | --- |
| Raspberry 'Polka' | Raspberry 'Tadmor' | Raspberry 'Tulameen' |
| A primocane raspberry, which has the potential to crop twice a year as it can produce fruit on both the current and previous years' canes. This plant is renowned for its exceptional ability to consistently produce high-quality fruit. The plants further, show a good resistance to disease and grow up to 1.8metres. | These are bread in NewZealand and have only recently been introduced into the European market. 'Tadmor' is one of the last raspberries to crop so are a good choice if you wish to prolong the growing season. A mature plant will produce a high yield of bright red berries that have an excellent flavour. Grow to 1.5metres. | A versatile and robust raspberry, which will blossom in a range of conditions. They have a distinctive conical shape and a sweet flavour. This fruit id produced on vigorous canes, which have long laterals, making them easy to pick. Grow to 2metres. |
 If you require our services whether it be for maintenance or landscaping, a one-off visit or regular visits, please contact us on our Free Phone Number or Head Office.
ELM TREE COMEBACK
An Italian-bred elm with proven resistance to Dutch elm disease has been found to be the most suitable candidate to return elm trees to the British countryside. The 'Morfeo' has shown the best adaptation to UK growing conditions.
PLANT FORUM
New plant introductions and news.
| | | | | | |
| --- | --- | --- | --- | --- | --- |
| Buddleja davidii reve de Papillon | Clematis 'celebration' | Rosa Claire Marshall ('Harunite') | Apple 'Redlove Era' | Helenium 'Gelbe Waltraut' | Cypripedium Sebastian |
| This is attractive to butterflies and produces impressive, large, bright pink flower heads up to 40cm and has a neat, compact habit. It has a long flowering period from July to October, which makes it am excellent long-lasting summer-shrub. | Produces showy, blue-flushed double flowers in May and in June, followed by singular flowers later in the season. It also has lively, golden leaves and stems with attractive red margins. | A good example of a modern rose which produces beautifully attractive, fragrant flowers. It has a compact, bushy habit which makes it suitable for small gardens. Also, this rose produces blooms continuously throughout the summer. | This fruit is harvestable from September and can be stored up until late December. The crisp, juicy apples may be pressed of cooked and have the added ability to produce an array of beautiful, deep pink blossoms. | Flowers from late June onwards through summer. This cultivar produces beautiful flowers with yellow florets, which surround central, light brown cones. | This hardy orchid has attractive, broad leaves, and forms many flowers in late May, sometimes with added flowers upon one stem. It is happy when positioned in dappled shade and thrives in moist, open soil that is well-draining. |
GO FOR GOLD
The colours and textures of ornamental grasses add much to misty autumn gardens making huge statements for the long-lasting winter.
Cortaderia selloana
This grass used to be deeply unfashionable as they were over-planted in the '70s. However, today this wispy, almost transparent seed heads mix beautifully with other grasses, making an impressive focal point.
'Rubrum' and 'Totnes Burgundy'
The claret-tinted seed-heads and dark purple leaves of Pennisetum setaceum otherwise known as 'Rubrum', contrast well with the golden daises of

Rudbeckia

.
Eragrostis curvula is otherwise known

 as 'Totnes Burgundy', cascades from a terracotta container, and its shock foliage takes on deepening wine-red tints as the season progresses.
Working with Grasses
Grasses can be valuable and extremely versatile when creating the perfect landscape. Not only do they provide colour and shape, but also they have the ability to attain structure to plantings.      
When many plants die down for the winter, Grasses, especially the large deciduous group, reach an upsurge of flower and form that can extend a garden season's interest from summer to the following spring. The main genera of deciduous grasses, such as

Miscanthus

, Panicum, and Molinia can transform a landscape into an autumn picturesque beauty.
Most grasses have a clear linear outline and their structure is of such that can withstand rain and wind for many months, these traits are what make them useful in gardens.
Autumnal Delight
Grasses make ideal partners for late-flowering perennials. Ruby-red

Sedum Herbstfreude

can encircle and work well with dazzling yellow

Molinia.
Panicum Virgatum

'Heavy metal'

Miscanthus sinenses

'Ferner Osten'

Miscanthus sinenses

'Flamingo'

Pennisetum alopecuroides

'Hameln'

Its stems, leaves, and flowers are all quite tall and stand upright. They are usually a powdery blue-grey colour which is why the name

'heavy metal'

is suitable.

Have fast-growing mounds of foliage. It grows and rises upwards, reaching up to 6.5ft in height and spread. Masses of dark red flowers follow, gradually fading to beige.

This garden cultivar reaches a peak in its performance in the autumn. It has a similar height and spread of the

'Ferner Osten'

, however

'Flamingo'

has rich, bright pink, pendulous flowers.

An old cultivar, and is distinct in its dark, rounded outline that bursts with lots of small, pale flowers

.
Spring in autumn
Crocuses are usually associated or thought of as a springtime plant however this is not the case as Blue Iris Landscapes suggest that these plants will liven up the autumn.
Crocus speciosus

Crocus pulchellus

Crocus sativus

Crocus goulimyi

One of the most widely grown and most recognizable autumn-flowering crocuses. It's tall, goblet-shaped flowers vary in colour from lilac to purple. The flowers are produced in September and October and emerge in advance to the leaves.

His species comes from western Turkey and in cultivation flowers from September to early November. The elusive lilac-blue flowers open into a bowl shape, however, in sunshine the petals spread widely apart.

This is the popular well-known saffron crocus. Identified by its heavily veined lilac-purple tone along with its complementary yellow stamens.

From the rocky hills of mainland Greece. 'Goulimyi' has tall, wineglass-shaped flowers. They appear in September and October.

How to grow

How to grow

How to grow

How to grow

They abide many garden surroundings, from open borders to grass.

It prefers slightly moister ground than other autumn crocuses and if left undisturbed will seed around in ideal gardens.

They necessitate well-drained, gritty compost along with a warm, sheltered, sunny position.

 

A sunny open site suits best, although a sheltered area is preferred as these long-'stalked' flowers are simply

Other selections

Other selections

Other selections

Other selections

'Albus'

has glistening white blooms.

'Conqueror'

has large, deep sky blue flowers and

'Oxonian'

has large dark blue flowers.

Crocus

'Zephyr'

is a good cultivar and often has extra large flowers which are greyish-blue colour.

Crocus

'Cartwrighters'

has smaller flowers and the styles are less profound.

'Mani white'

is equally prolific in cultivation as well as

'leucanthus'

which has narrow flowers with tones ranging from pale lilac to white
If you would like further information about any of the recommended plants then call Blue Iris Landscapes please contact us.