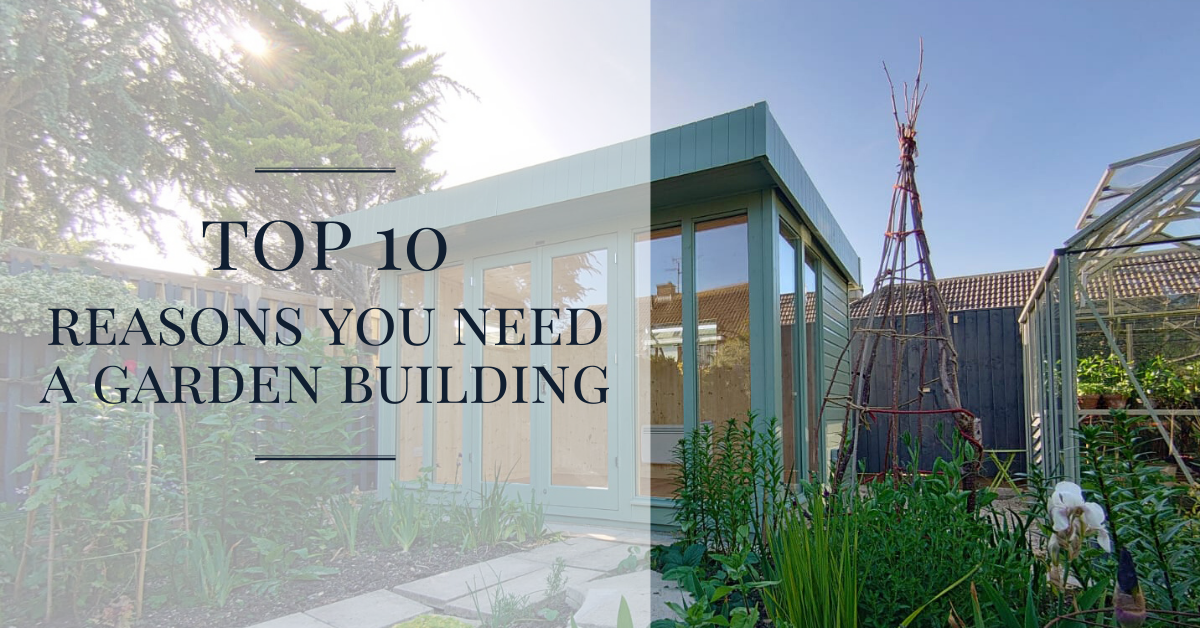 Top 10 Reasons You Need A Garden Building By Crane Garden Buildings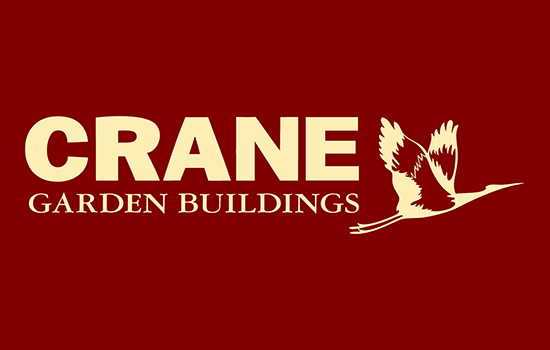 One thing you may think about when choosing to landscape your garden is whether to incorporate a garden building into the design. As well as creating a nice focal point for your garden, they are also practical and have many uses.
Garden buildings are versatile, and they can be multi-purpose, providing multiple functions under one roof. If you're thinking of having a garden building added to the design of your garden, Crane Garden Buildings have put together 10 uses for a garden building demonstrating just some of the things that are possible with one of their tailor-made, FSC® certified timber garden buildings.
Here are the top 10 uses for garden buildings:
1) Relaxation/Entertainment Room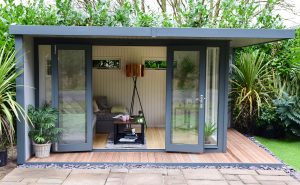 Whether you're after a big space the whole family can use or a relaxing retreat where you can escape for a bit of peace and quiet, having a garden building installed can provide you with extra living space without having to expand your home. Add a couple of chairs or a sofa and you will have a cosy outside lounge where you can relax and enjoy your garden from all throughout the year. Your garden building can also double up as an entertainment space. You can invest in a projector and turn it into an outdoor cinema room or add a drinks cart to create a bar area where you can enjoy drinks with friends.
2) Workshop
In need of somewhere you can practice your DIY skills, tinker with tools and work on projects? You will need a garden building to use as a workshop. Having a garden shed installed will enable you to have space for all those things. You can choose a size that suits your requirements and fits in with the space you have available, you can opt to have a workbench installed to give you plenty of room to work, and you can also have a storage partition to store machinery and tools.
3) Hobby Room
If you want a dedicated space to indulge in your favourite hobby, but are running low on space in your house, a garden building can be an ideal solution. You can have a craft or sewing room where you can let your creativity run wild, an art studio that allows plenty of natural light inside or a dedicated space where you can design and paint models and figures undisturbed.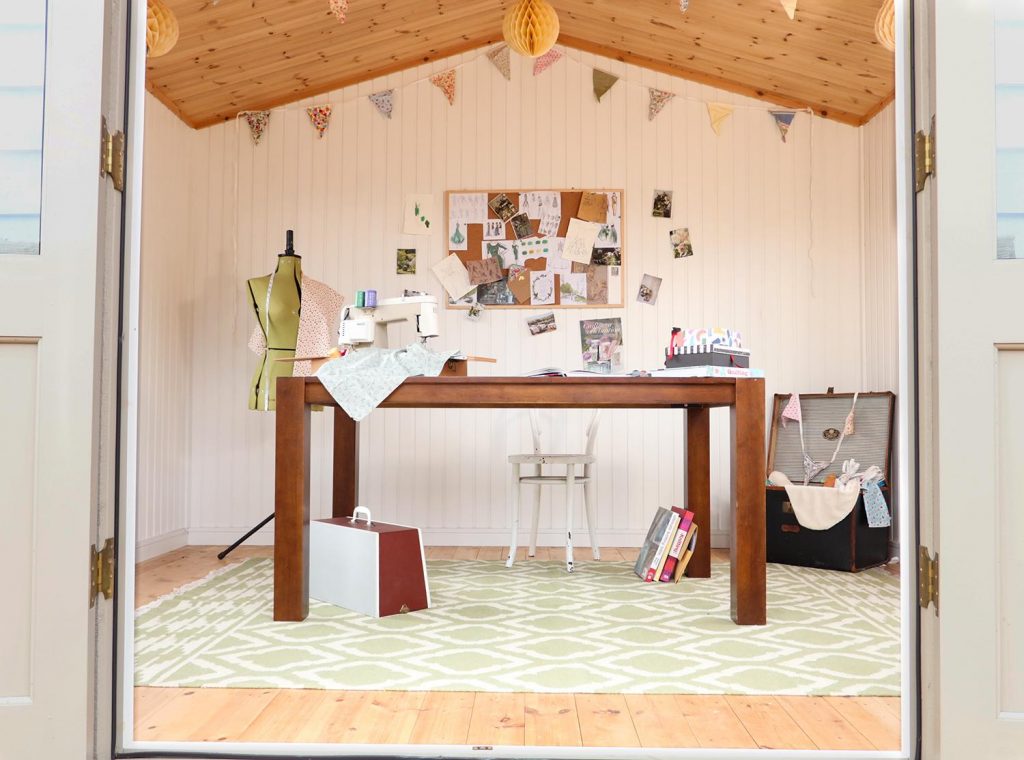 4) Garden Office
The number of people working from home is increasing every year, and that is why many are opting to have a garden building installed to use as a home office. Depending on what you do for a living, you may need a building with just enough space for a desk and a filing cabinet. If you are going to be regularly hosting clients, you may need a larger space with built-in partitions to create separate spaces such as a consultation room, a kitchenette, and a washroom.
5) Garden Dining Room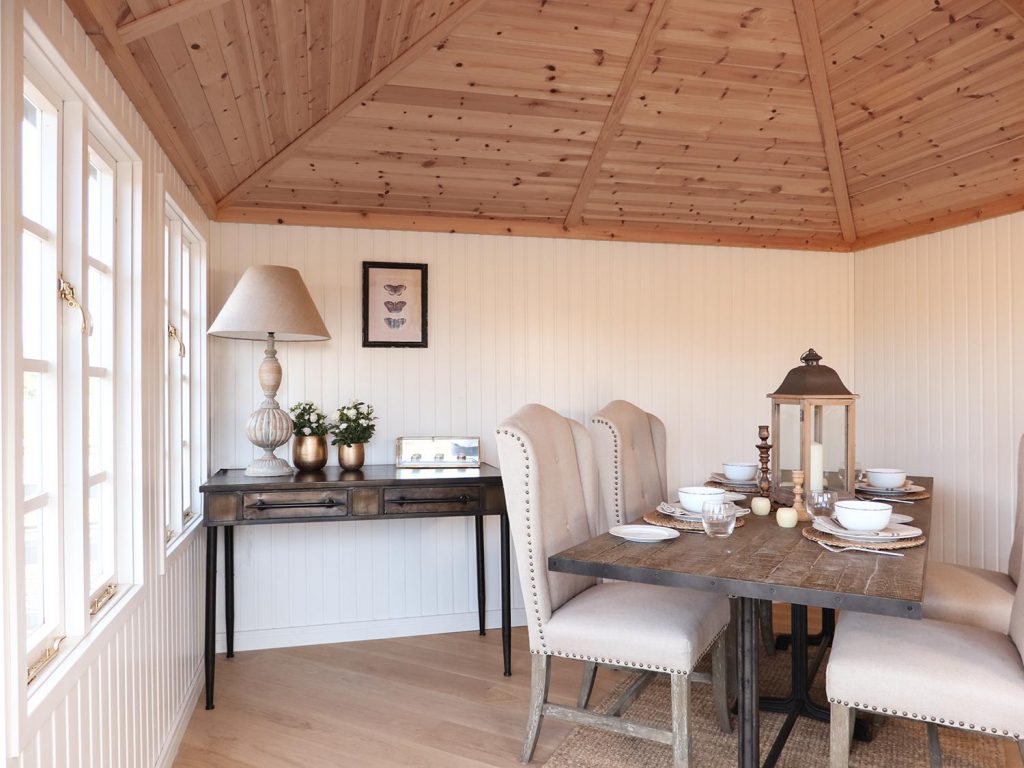 Using a garden room as an alternative dining space is a great idea. During the warmer months, you will be able to enjoy your meals under shelter while also being able to enjoy the sunny weather. If you have a building that is fully lined and insulated, you can also make the most of it during the winter months and use it to host dinner parties for friends and family.
6) Pool House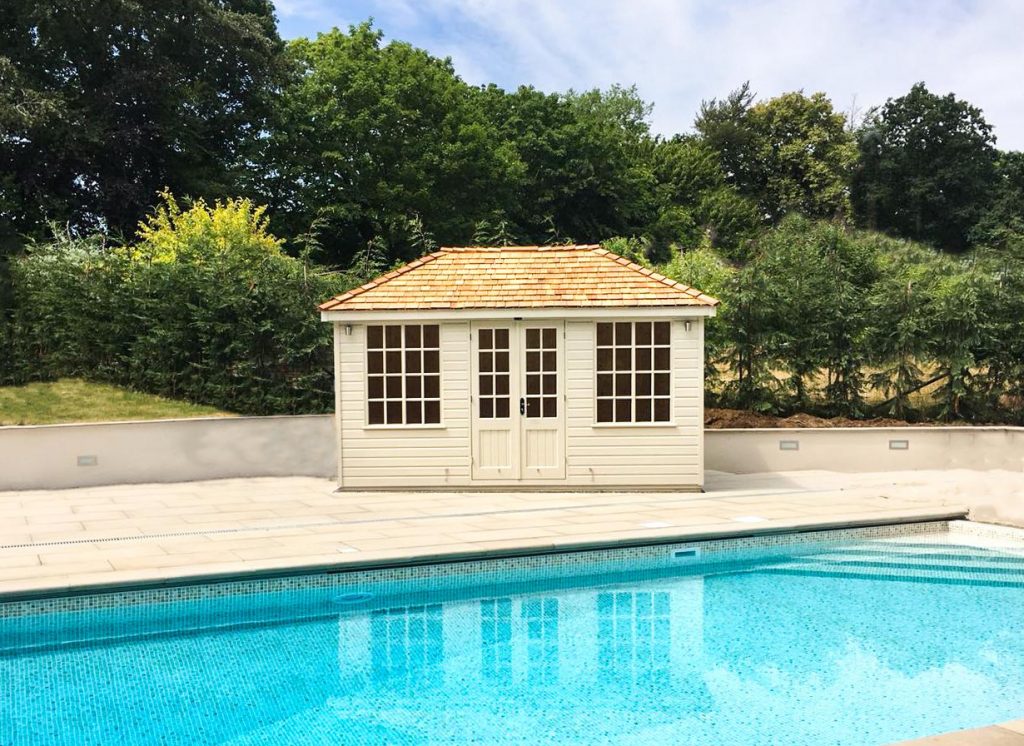 If you have a swimming pool, another great use for a garden building can be using one as a pool house. You can use it as somewhere to relax while you dry off after swimming. You could also have a partition added to the back or the side of the building for use as a pump room.
7) Home Gym
A garden building turned home gym provides users with their own workout space with the flexibility of working out when they want to. It doesn't matter whether you prefer weights or cardio, Pilates or Yoga, as it's your building, it's completely up to you what equipment and furnishings you have inside so you can tailor your gym to suit your needs.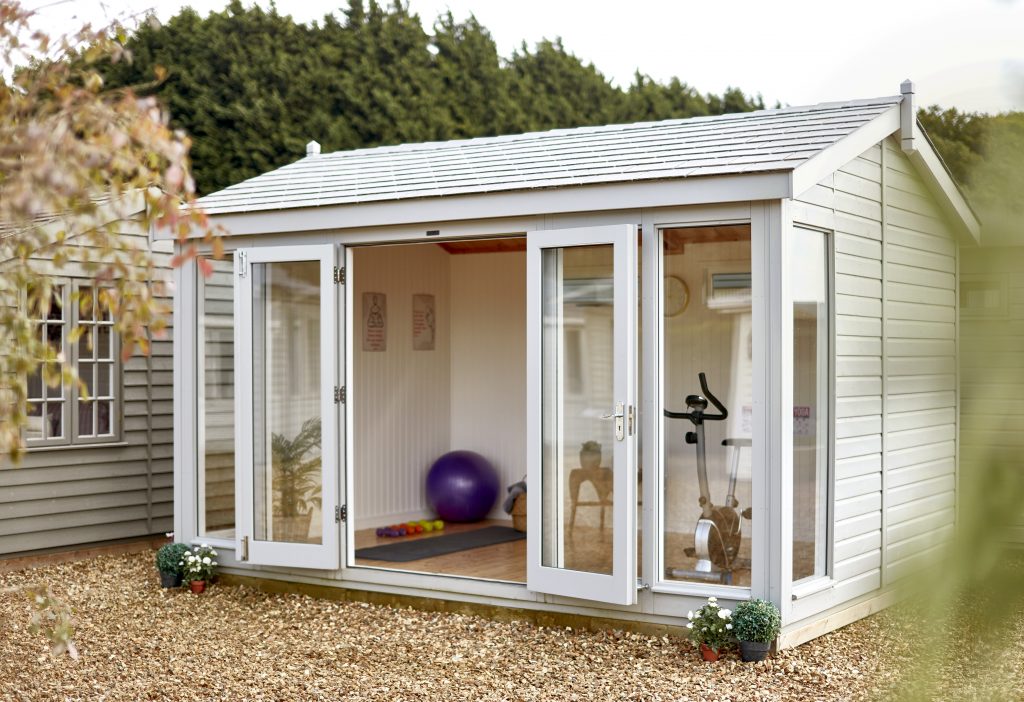 8) Playroom/Games Room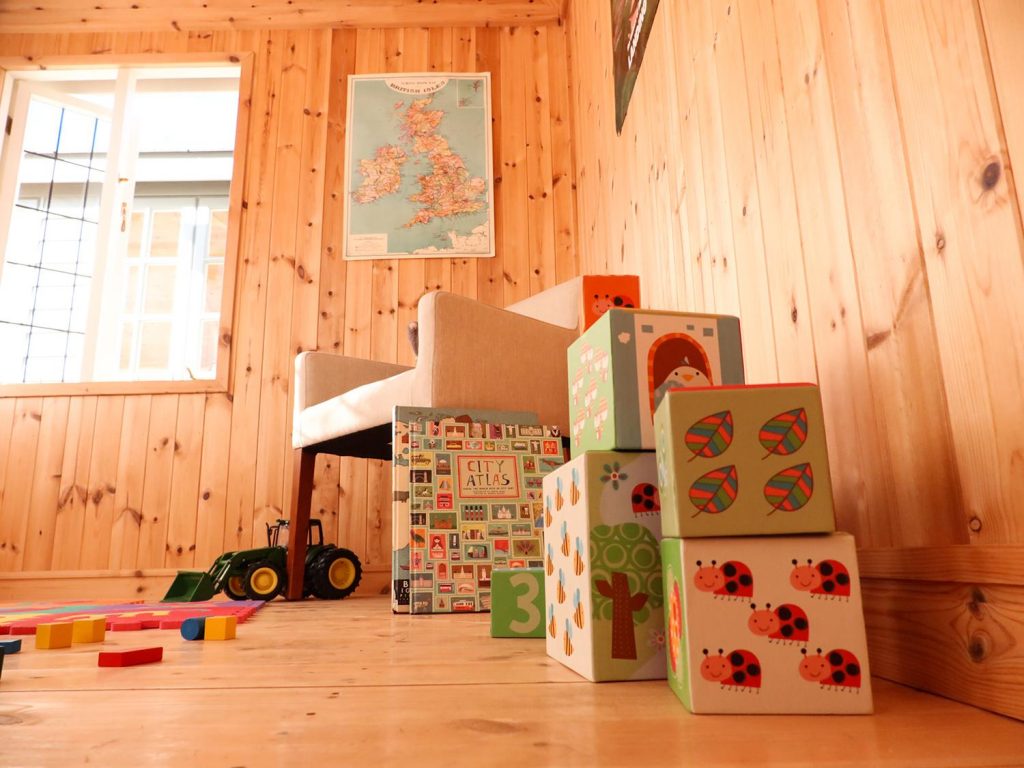 You may want to consider a garden building to turn into a playroom if you have little children at home. Your little ones will be able play and make mess with whatever toys they like without imposing on space inside your home. When your children get older, you can then use the garden building as a games room and have items such as a pool table and a darts board to keep them occupied.
9) Nature Watching Den
Your newly landscaped garden may start to attract more wildlife and what better way to admire them than from a garden building. By choosing a garden building with plenty of glazing, you will be able to easily spot all the animals thriving from your surroundings.
You can even get a garden building with a living sedum roof, which will further benefit any bees and butterflies visiting your garden.
10) Potting/Growing Shed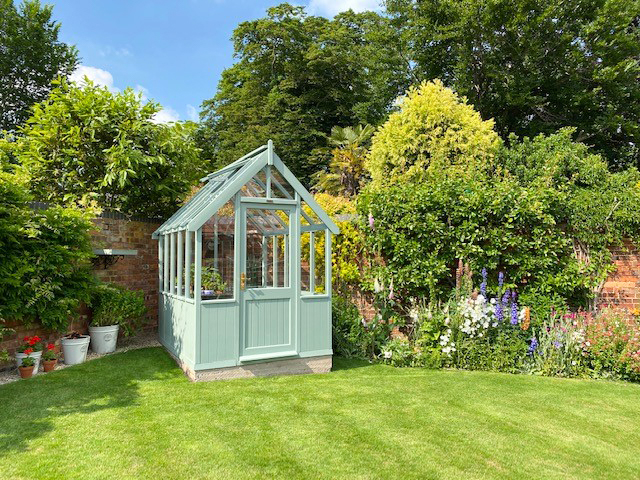 If you are a keen gardener looking for somewhere you can care and nurture plants, you may be considering having a potting shed or greenhouse installed. Crane's Greenhouses have two automatically opening vents in the roof to help regulate the inside temperature and you can also have two workbenches installed to provide ample space for working on your pots. With one of their sheds, you can have a partition added to create a separate space to store your extra pots and gardening equipment, as well as a workbench and plenty of windows.
Whatever you want to use a garden building for, Crane Garden Buildings have a number of different building designs for you to choose from. They offer greenhouses, sheds, summerhouses, studios and garden rooms that are made to order.
You can decide whether you would like a modern or more traditional building, an insulated year-round building or an unlined summer-use building, and you can also choose what size you would like in order to create your very own tailor-made garden building. Crane Garden Buildings offer many different exterior and interior design features including window types, cladding options, roof coverings, paint colours and flooring finishes for further personalisation.