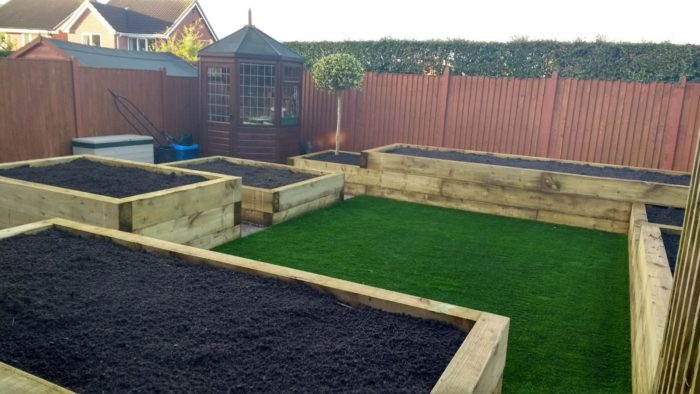 Landscape Gardener in Cheadle
As a landscape gardener in Cheadle, we recently completed a lovely landscaping project. We landscaped the back garden to make the garden more practical and easier to maintain, while still giving that wow factor.
The existing garden was dug over, removing the old paving area and clearing the area so we had a nearly blank canvas. To begin with, we create a new terraced area using Indian stone paving. This created a lovely sitting area to enjoy in the warmer weather. A new path was also created to ensure that clear and easy access to all entrances was, possible. This included access to the conservatory and the garage. The path was also created out of Indian stone paving.
To add interest to the garden two water features were created in the garden. One was a Monolith water feature, this running water feature added to the aesthetics of the garden. We also created a second water feature, for the fish. As you can see from the images this was a raised brickwork feature with the pond sitting inside this brickwork. Having fish in your garden give a lovely feature and interest to any garden.
The remaining areas of the garden had new high-quality turf laid to give a large area of vibrancy for our client to enjoy.
An undulating border was created around to new lawn area and was planted up with a mixture of shrubs, perennials, and herbaceous plants. To given interest throughout the year, however, it was biased toward the summer to give that added wow factor in the summer months.
To ensure the safety of the garden was maintain a new fence was erected too.
As you can see from the images this gave a wonderful transformation to the garden. We hope the client spends many a lovely summers day enjoying their garden.
Contact us!
Do you require a landscape gardener in Cheadle or throughout Staffordshire and Cheshire? Then look no further Blue Iris Landscapes is the company for you. This is just one example of landscaping we have carried out to see further examples please see our gallery.
To begin your landscaping, contact us today!