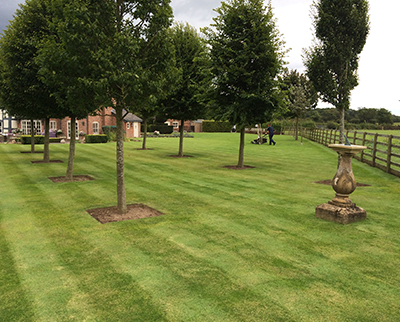 Landscape Gardener in Knutsford
We have been established as a landscape gardener in Knutsford for 20 years. Therefore we have vast knowledge and experience in creating and maintaining gardens. However knowledge isn't everything, we also highly value our client base. We offer excellent customer service ensuring our clients are 100% happy.
One of our core values is our 'Client Focus'. We ensure that you as the client are at the forefront of what we do; aiming to exceed your expectations and requirements in everything that we do. When carrying out landscaping our reliability, attention to detail and expert knowledge is what makes us stand out from the crowd.
Blue Iris Landscapes – The Company for You!
Do you require a landscape gardener in Knutsford? Then look no further Blue Iris Landscapes is the company for you. We love to create gardens that our clients will be proud of for years to come. Your garden can really add that WOW factor to your already beautiful house.
We can create a modern garden which is minimalistic and sleek. Alternatively, you can have a wild country-style garden with varieties of colour and plenty of shrubs, perennials, and herbaceous plants. Please see the examples pictured of landscaped gardens. We can lay patios, erect fencing or create ponds, plus so much more. Visit our 'Landscape and Garden Design' page for further details.
There is so much variety to choose from! However, it is important to create a garden that you as the client can enjoy. A garden you can relax or entertain in on a beautiful summer's evening.
Please visit our gallery or Instagram page to give you inspiration. Alternatively, why not contact us to arrange a free site visit, where we can discuss your requirements. Following your site visit, we will create a detailed quotation and 3D CAD drawing.
Contact your local landscape gardener in Knutsford today!