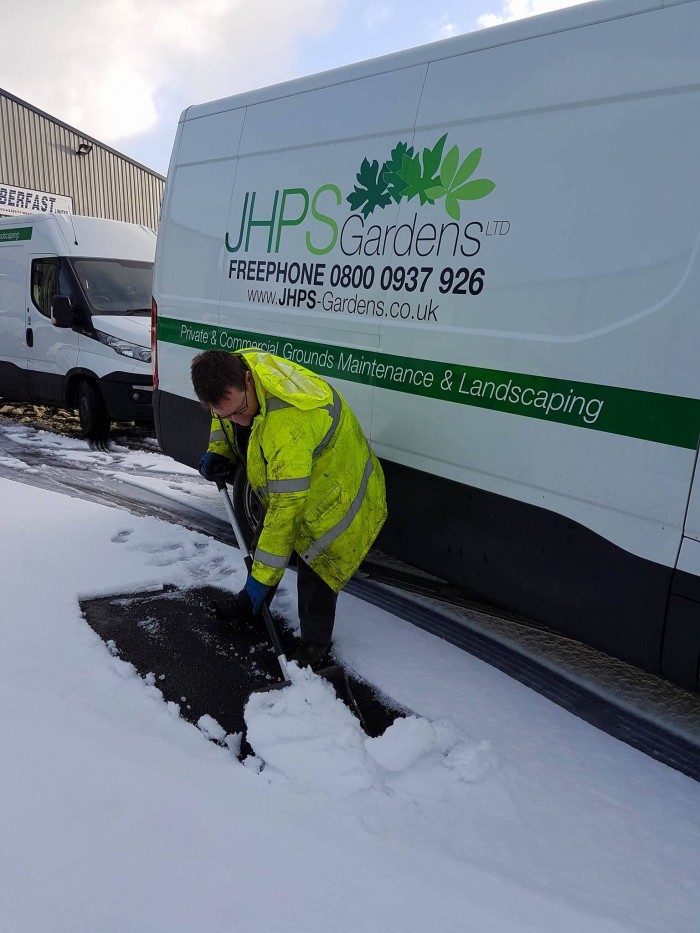 Do you need Gritting and Snow Clearance?
If you are concerned about injuries and business disruption due to the snow, Blue Iris Landscapes can help. We offer low-cost gritting and salting services to car parks, private and commercial premises.
A Complete Professional Service
We view each client and clearance important, giving the best quality service no matter the size. We grit businesses and retail as well as garden paths and steps to both public and private homes. The service we provide helps keep businesses compliant with health and safety regulations which state the precautions of which businesses should attain to prevent injuries within the workplace. We also conduct site visits to ensure we tailor our salt and gritting plans to your needs.
The Importance of Snow Clearance and Gritting
To prevent business disruption from the snow and freezing temperatures, having a gritting and salt programme in place is necessary.                                                                                                                                                                                                                                                                                          
Whenever the temperature falls below zero degrees or lower, Blue Iris ensures that we will be gritting and salting to your premises so you can stay in operation without difficulty throughout winter. Spreading salt sufficiently is crucial to raise the ground temperature to stop the roads and pathways from becoming icy.
What Kind of Premises do you Grit?
Here at Blue Iris Landscapes, we grit Local businesses, car parks, private and commercial homes. We are also very willing to grit and clear driveways, paths, and steps.
How much do your Gritting Services Cost?
Supplying a quote requires many factors such as where you live and how big the area needed to be cleared or gritted. Please contact us with your postcode and address to attain a low costing quote. We are aware of and understand that businesses do not have an unlimited budget for gritting. To help with this Blue Iris promises to contact you and give you the option of whether to grit or not when the temperature dips below zero degrees.
We always give cost-effective quotes for your gritting services and will always keep you updated. For a free quotation please follow the links and send us your postcode and address.
How does Salt Work?
When the surface temperature falls below zero, ice starts to form and the snow starts to settle. When the salt is spread it helps to raise the surface temperature which helps prevent the road from becoming icy. However salt needs to be spread before ice or frost forms.
What is Involved in Salt Spreading?
We spread out salt on the roads and pavements as a precaution, before the ice or snow starts to fall and settle.
What Other Services do you Provide?
Blue Iris Landscapes is a grounds maintenance and landscaping company. We provide a wide range of services such as Lawn care-Mowing-Treatments, Tree and shrub pruning, Garden design, One off garden clear ups, Landscaping, power washing and much more. 
If you would like more information on snow clearing and gritting, or any other services we provide please don't hesitate to contact us.