Hedge Cutting
There is nothing better than the crisp lines created by an experienced hedge cutter
Hedge cutting is an important aspect of garden maintenance, as hedges often surround our properties and give the first impression of our home to guests and passers-by. There is nothing worse than an unevenly cut hedge.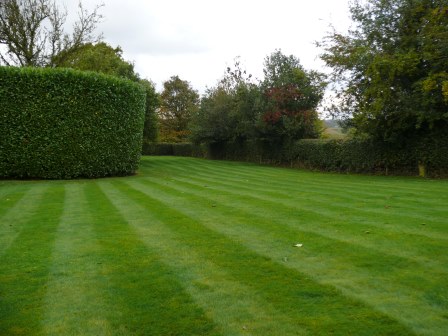 We specialise in and take pride in our hedge trimming and cutting service, using Stihl petrol hedge cutters to provide our customers with the best possible first impression for their home. Hedges are an ideal feature for aesthetic and practical purposes and can form a backdrop for a border or be used as a property boundary instead of a wall or fence. Hedges can also be used for practical purposes, such as providing privacy or keeping people out. It would take an unusually persistent burglar to try to get through a Berberis or a Prunus Spinosa hedge!
Hedge Cutting Services
Hedge cutting should be completed on a regular basis. Different hedges will need to be cut at different times of the year and the number of times will depend upon the species and variety. Hedge cutting should be done with a sharp pair of hand shears or a sharp pair of hedge cutters.
Hedging can also be used to create a more formal or dramatic look using both box hedging as a parterres and topiary spirals to give your garden that extra wow-factor. They are maintained by trimming just once a year. The box hedging is cut using petrol hedge cutters and the topiary is trimmed by hand using hand shears to ensure they are looking perfect.
If you have a hedge that needs cutting or need some advice, please feel free to contact us.
Below are some of the more common hedging plants. We have detailed how often they will need to be trimmed per year and when it is best to do this:
| | | | |
| --- | --- | --- | --- |
| Latin Name | Common Name | Cuts | Further Information |
| Cupressocyparis leylandii | Conifer | 2 | Don't cut in the winter |
| Ilex aquifolium | Holly | 2 | Can be cut at any time |
| Pyracantha | Fire Thorn | 4 | Don't cut the flowers off, you will lose the berries |
| Taxus baccarta | Yew | 2 | These are ideal for formal hedges |
| Fagus sylvatica | Beech | 1 | Cut in late August for the best results |
| Ligustrums | Privet | 4 | Cut as is necessary |
We are happy to quote for small and large hedge cutting jobs. We own all of our own professional tools, so we are well set up for any hedge cutting job.