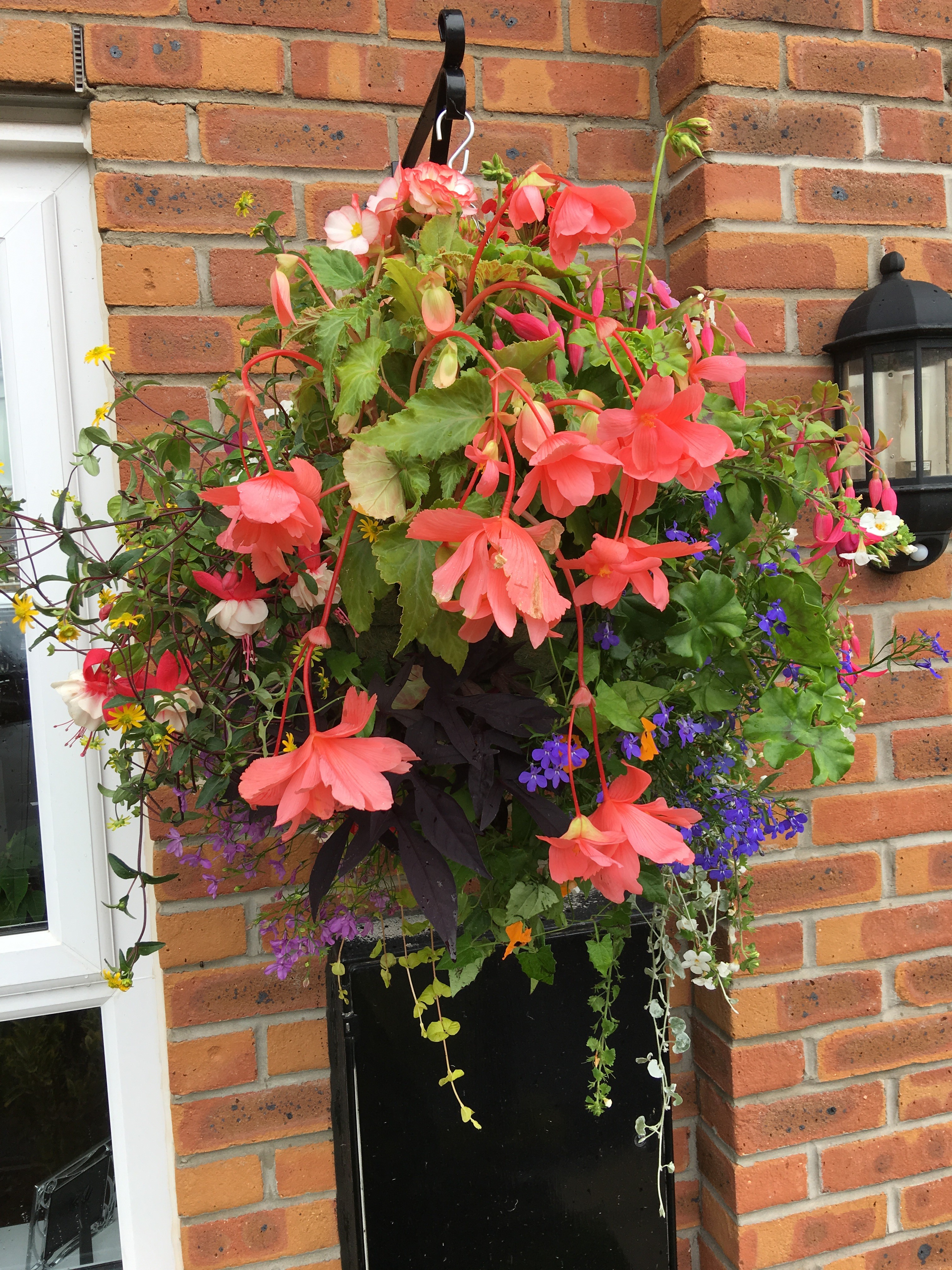 We have donated two fantastic hanging baskets to North Staffs Carers Association in Stoke on Trent this week. Have a look below to see how to create your own fabulous hanging baskets.
A great way to get the most out of your garden is to add hanging baskets into your garden. This works well in gardens which don't have much planting room – simply hang the baskets around your house and enjoy the bright colours and floral scents.
Lining – Create a lining by collecting moss from your lawn and laying it in your baskets. Alternatively, a ready-made liner can be bought from your local garden centre. It may be a good idea to place a bin liner at this point in your basket, cutting approximately three 2cm holes in to prevent too much of the water from escaping. Then fill your basket with high-quality compost and the plants of your choice.
Plants for hanging baskets
It's a good idea to choose a colour scheme for your hanging baskets to create a beautiful arrangement, this takes a little bit of planning. Most typical hanging basket plants come in a wide range of colours so getting the right colours shouldn't be too much of a problem. A few of the general plants that you could include in your hanging baskets are:
Lobelia – this pretty little flower comes in a range of colours and it a very unusual shape.
Dichondra "Silver Falls" – this green foliage will grow over your hanging basket, almost reaching the floor in some cases. These are fantastic for any gardeners who want fewer flowers and more greenery in their hanging baskets.
Sweet Pea – these are very fancy shaped and are great to combine colours, the pinks, whites, and purples look great as a mix together.
Petunia – quite a common plant for including in hanging baskets, they come in a wide range of colours so make sure you pick a great mixture of petunias to plant together.
Begonia – these are very easy to care for and look fantastic when planting them in your baskets in fiery reds, yellows, and oranges.


Once your baskets have been planted up your must keep them well-watered, especially during the warmer days. Dead-heading the flowers is also a good idea as this will help with the increase of flowers produced next time round.
If you need any more tips, please don't hesitate to contact us or email us at info@blueirislndscapes.co.uk