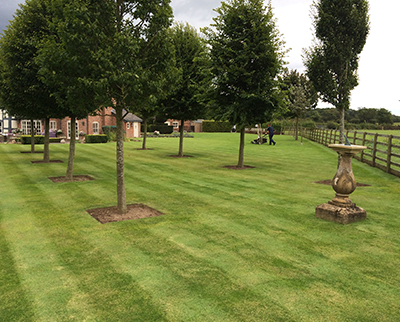 Small Trees with Autumn appeal with Blue Iris Landscapes
As autumn gets underway, the changing colours in many leaves can leave your garden with character and quality. Here are just three small trees that are favoured by many including Blue Iris Landscapes
Cercis Canadensis 'Forest Pansy'    
An eastern redbud with dark, rich purple, heart-shaped leaves. Fantastic at any time of the year, in autumn it flourishes deep bronze-red then yellow. 'Forest Pansy' becomes a trim, spreading tree eventually reaching 10m (33ft) in height and spread. To acquire the best leaf colour grow in full sun on fertile, moist well-drained soil.
Cornus Kousa 'Miss Satomi'
A broadly conical tree bred in Japan. They have ovate, wavy margined, dark green leaves turning red and dark crimson-purple in autumn. There are the added bonuses of youthful summer flowers surrounded by unusual dark pink bracts, followed by an abundance of strawberry-like red fruits.
Euonymus oxyphillus
An upright small tree with ovate-oblong finely toothed green leaves colouring well with shades of glowing purple-red in autumn. This variety provides added ornamental appeal through its large spherical, dark red, winged fruit with orange-red seeds ongoing from autumn to winter. It grows to around 4m (13ft).
We hope you enjoy adding colour to your garden for those autumn months. If you need any more information on Cercis Canadensis 'Forest Pansy', Cornus Kousa 'Miss Satomi', Euonymus oxyphillus or on any other small tree, please contact us on: –
Free Phone: 0800 0937926
Head Office: 01782 396168
Email: info@blueirislandscapes.co.uk