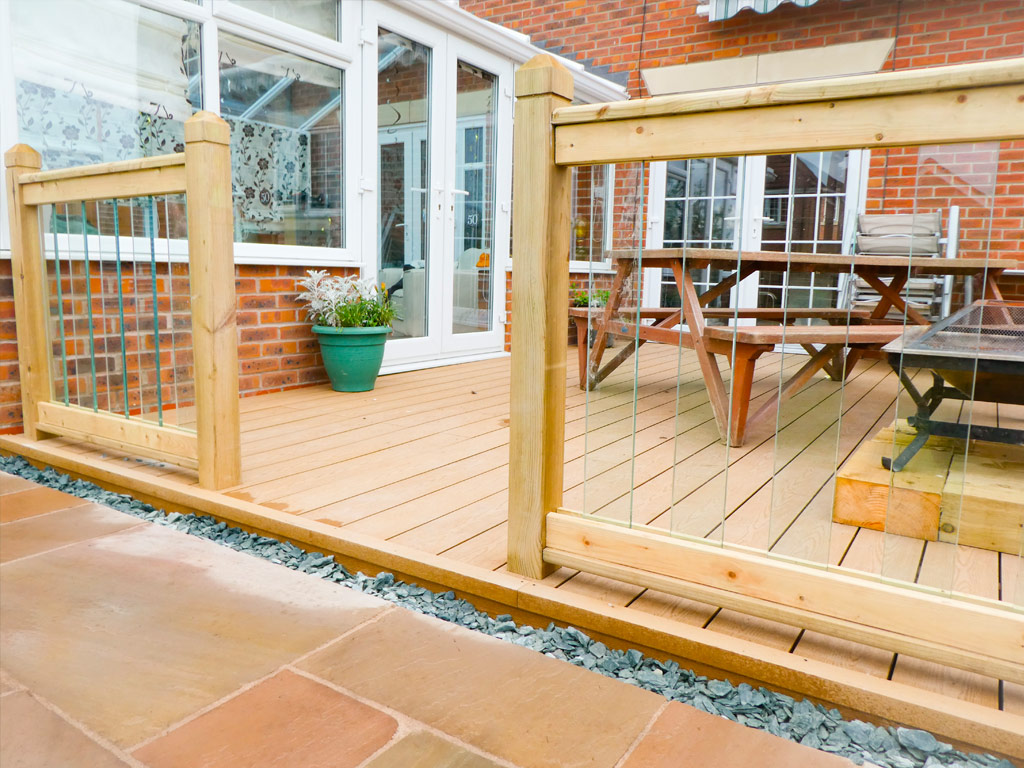 Landscaping in Cheshire
We have recently been landscaping in Cheshire to complete a lovely job, to landscape a customer's back garden. This particular landscaping in Cheshire entailed various sections that all created interest to the customer's garden. We also created a number of seating areas where they could sit and relax.
Following the initial site visit, a quotation and a 3D CAD drawing, to give a visual representation to our customer, were created. This enables our customer to see what the final design could look like.
Once all the finer details were finalised and the customer signed off, we could commence landscaping in Cheshire.
Commencing Landscaping in Cheshire
We began with creating a large decked area, where an existing patio was situated. To finish the decked area off, the customer had already chosen a beautiful glass balustrade to edge the decking. This really added extra detail to this lovely new seating area.
When completing landscaping, it is important for us to meet the customers' requirements throughout the project. This all ensures the customer is 100% happy with the finished project. In this instance the customer had already chosen glass balustrade. However, other options that could be used are wooden or rope balustrade.
Next, we created several paved areas; one of these areas was a stone circle. The addition of a stone circle adds extra interest to the garden. The second paved area was adjacent to the decked area. This ran along the front of the conservatory to create another small seating area. This area allows the customer to sit and enjoy the morning sun.
To give the garden colour and interest all year round, we created two raised sleeper beds. These beds were then planted up with a mixture of shrubs, perennials and herbaceous plants to create the necessary colour and interest all year.
We also created a new wooden fence along one side of the garden; however the bottom two fence panels were constructed using trellis. This was done to allow the customer the continued view over the nature reserve. This helps to extend the view of the garden and is lovely for our customer to enjoy while they enjoy their morning cup of tea, sitting on their new patio area.
We finished this particular landscaping in Cheshire by laying a new lawn; we used a high-quality turf, which requires little care, just mowing.
What our Customer's say about us:
Our client was very happy with all the work that was completed, and sent us the following testimonial:
"The guys were excellent and have done a really good job. We have been really happy with their work and they have worked really hard. It was nice to see young lads working so hard and so proud of their work."
To see further testimonials from other customers, please see our testimonials page.
We carry out a lot of landscaping in Cheshire. As such we aim to create a fantastic looking garden that is aesthetically pleasing and meets the customers' requirements.
So if you are looking for a company to carry out your landscaping in Cheshire, contact us. We look forward to hearing from you.
To view more examples of our work please see our gallery.